Immortal by Timothy Rhyme featuring Jeff K.mp3
Check out our TeeChip Ribbon campaigns below.
*For a ribbon not offered, or bulk orders please contact us.
*Shipping is not included on our TeeChip campaign prices.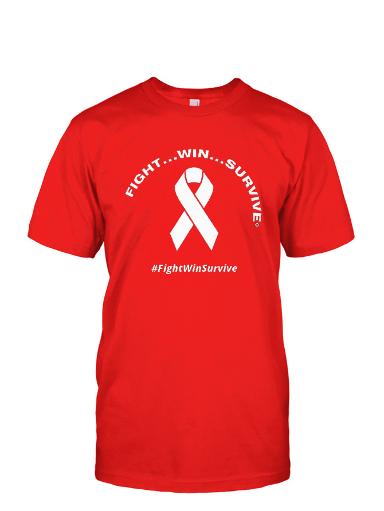 To order this red shirt or any other associated awareness ribbon products in red click on the above picture.

Available Apparel and Prices
T-Shirts - $17.99
Tank and Sleeveless - $19.99
Premium T-Shirts (Regular and Ladies) - $21.99
Long Sleeve T-Shirts - $24.99

Sweatshirt - $34.99
Hoodies - $39.99
Mugs - $9.99
Phone Cases - $17.99

*NOTE: American Apparel Ladies Tees are fitted.
NOTE: T-Shirts are sold in category/color groups. If you are ordering different designs and/or colors each selection will be a separate purchase (there is no combined shipping).
While the list associated with the t-shirts below is not totally complete in listing all meanings, it does cover a
range of items that the colors are known for.
For a general list of the ribbon colors and meanings, please click the link below.

Returns


Due to the nature of our special order apparel items, returns other than product defects
will not
be allowed.
Copyright 2015
Fight…Win…Survive®
. All Rights Reserved